TaylorMade RocketBallz RBZ fairway wood review
Review Date: 23rd February 2012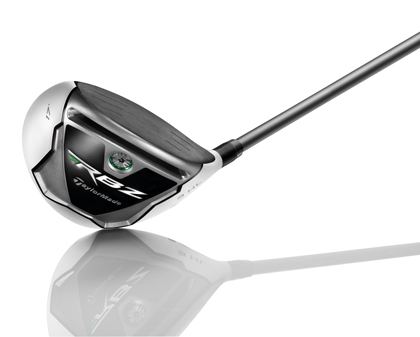 Design and Tech Benefits
The TaylorMade RocketBallz RBZ fairway wood is fitted with the standard Matrix Ozik XCon 5 shaft, which weighs just 50 grams. Along with the lightweight head and shaft this is designed to increase distance. The shaft is available in four flexes (S, R, M and L).

The grip on the RocketBallz RBZ fairway wood is also lightweight to help bring the overall weight of the club down to 315 grams. Unlike some lightweight grips this does not affect the feel or grip in adverse weather.

The new RBZ white and green combination will catch the eye, particularly when combined with the new speed pocket and the distance gains TaylorMade ?is suggesting.

Perhaps surprisingly for a white-headed club this looks traditional at address, which suggests we are becoming used to the white wood design. The graphics don't distract at all.
The white head and black face combination of the RocketBallz RBZ fairway wood is designed to aid alignment and reduce glare. A weight port in the sole is positioned close to the face to improve ball speed.

An area behind the face has been removed from the sole to create a speed pocket, this is designed to increase the power off the face to help increase the distance on a range of strikes.
See More:
TaylorMade RocketBallz RBZ fairway wood video review
TaylorMade RocketBallz RBZ fairway wood pictures
TaylorMade RocketBallz RBZ fairway wood launched
Golf Monthly Verdict
The high launch 3-wood is almost 4-wood like in loft, but also produces a powerful flight. The flight with the standard 3-wood is almost driver-like in flight, and in the run it produces.

There was noticeably more distance compared to woods with the same loft. The extra yardage might require a rethink at the top end of the bag to find consistent gapping.

The face is slightly deeper and bigger than the Burner 2.0, which aids forgiveness. Shots from the bottom of the face fly noticeably further than previous models.

Extremely powerful off the face with a pleasing impact sound. ?Off-centre strikes make a duller sound, which helps provide good feedback on where the ball hits the face.

PGA pro verdict

This high-launch 3-wood was a joy to use. The more lofted 17? version is more like a 4-wood in my book, but with so many driver loft options about, the fairways were always going to follow suit. The new sole design really helped the feel and performance, giving high and consistent flight. This product will fall nicely into a great line-up for TaylorMade in 2012.

Golf Monthly Top 25 Coach John Jacobs
Reviewer: Paul O'Hagan