Golf Betting Blog
Lively chat ensued on the GM forum recently regarding golf betting, and in particular about the point system for your betting stake.
For those who do not share our punting passion, the point system is a benchmark allowing punters of differing risk profiles to equally measure their confidence and craziness when comparing weekly wagers.
My "point" is £25; yours might be £50 or a fiver. By indexing the system thus, we can detect the size of each other's cajones. 
Well, in last week's Crowne Plaza and BMW PGA Championship tournament previews, points were distributed according to conviction, and those who followed author Tom Clarke will have had a profitable weekend.
Matt Kuchar, 3pts at 20/1 each-way, finished second, but Boo Weekley, put up at an eye-watering, wallet-bolstering 100/1 duly triumphed at Colonial and yielded a monstrous 125pt return!
Sadly, I did not take my esteemed colleague's advice, instead backing Tim Clark each-way (he finished out of the places in seventh) and only adding Kuch for the outright win at a short price heading into the final round.
I lost £192 on the tournament on Betfair, but my £25 investment in Tim Clark has been refunded as a free bet courtesy of Betway, who I registered with just last week.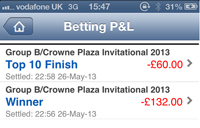 Things worked out much better on this side of the Atlantic, with loud-trousered and supremely-talented Italian Matteo Manassero playing some beautiful, but more importantly bold clutch golf on Sunday to snatch victory away from fellow chasing-pack members Lee Westwood, Simon Khan and Marc Warren, all of whom were hunting overnight leader Alejandro Canizares.
Despite having Manassero, who was tipped by Steve Palmer in the Racing Post at 66/1, in my Palphabet portfolio, it wasn't all bravo and arrivederci as far as I was concerned. Palmer advised a stake of one full point, but as I had plenty of my own picks too, I downsized my bet to a mere 0.5pt portion. 
Rather than going each-way at a quarter the odds, I took the 6/1 with Stan James about a top 10 finish, and thus limited my profit considerably more than genuine followers of the industry's leading tipster.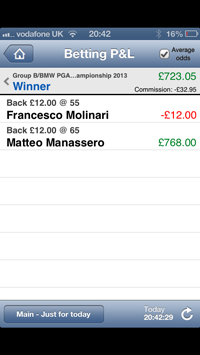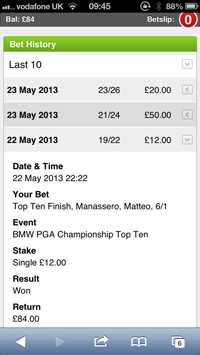 A consolation for this lack of balls was that as I was otherwise engaged on Sunday afternoon playing with a ball for my village cricket side, I couldn't lay any of my MM stake off. 
So, a decent weekend of golf gambling, but one that still feels like I missed a couple of opportunities that don't come about every Week-ley: MMmmmm, Booooo!! Thank goodness golf isn't the only
sport to bet on…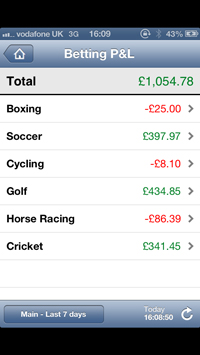 Twitter @planey2k
Dave has blogged for the past few years at Palphabet.blogspot.com on the many ups and downs associated with betting on a mulititude of sports.