Golf Betting Blog
America has it all doesn't it? Double XL meals with lashings of melted cheese, whether you like it or not; conveniently laid-out avenues and streets meaning you only really need to be able to count in order to navigate your way around the cities; lots of guns, people who hate guns, a president who wants to get rid of guns and a congress who won't let him – yes it really is the home of the free, the land of opportunity.
And Americans love their golf. While I was in New York city at the weekend I was able to drink it all in first-hand.
They have transformed an old NYC jetty into a driving range, which you really must visit if you're in the Big Apple, and on Saturday it played host to Golf Fest 2013.
Chelsea's Pier 59 (below) faces straight onto the waterfront of the Hudson River, a 200-yard fairway extending out towards New Jersey and, along with my dad and two brothers I was able to test out equipment from all the major club manufacturers, with a complimentary hot dog and a beer. What a country! "USA – USA – USA!"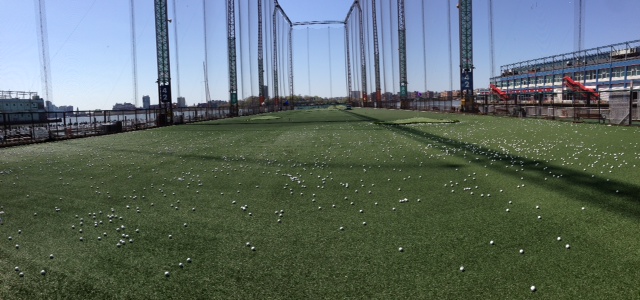 Except that in most of the USA, gambling is illegal. As your smartphone IP address gives away your exact location, managing my positions on the Ballantine's and Zurich tournaments proved as tricky for me as shutting down Guantanamo Bay is proving for Obama, and although the consequences were arguably less severe, they could still have significantly hurt my Betfair balance.  
I considered calling Amnesty International but instead dialled through to The Exchange's excellent customer service team to lay £40 of Alexander Noren at a couple of ticks below 2/1 before the final round at South Korea's Blackstone Golf Club, more than covering my initial stake.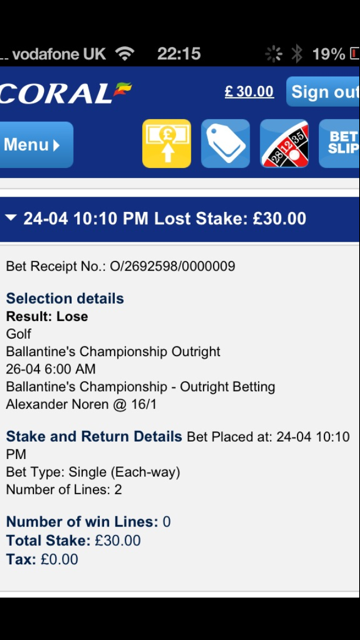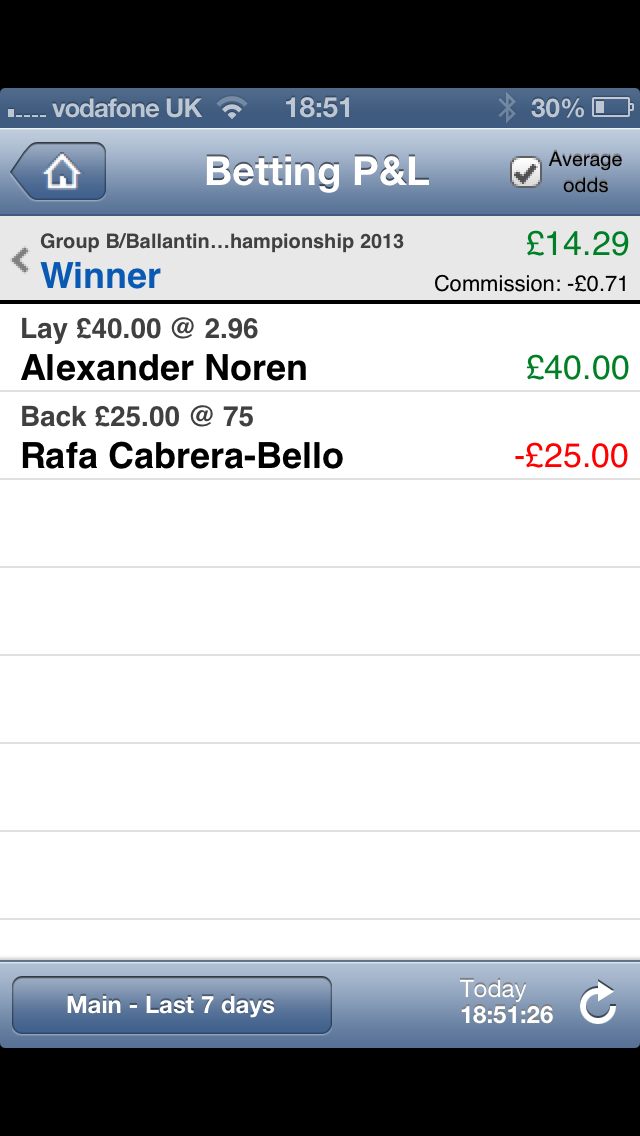 Despite being able to read Steve Palmer's final round advice for Zurich, and knowing that his in-play recommendation and eventual winner Billy Horschel had been tipped pre-tournament by Jeremy Chapman of the Racing & Football Outlook, I did not feel compelled to phone up again, so I walked away from the US PGA tour event with zero returns.
Upon returning to the UK, however, was able to discover that my £12 each-way on Romain Wattel at 90/1 with Bet365 has provided ample compensation for failures on the Betfair interface.
Although betting with a traditional bookie means it's not quite as straightforward to trade your position in-running, that massive price would not have been available via Betfair on Wednesday night last week, and no commission is paid to bet365 upon winning.
Don't settle for less if you don't have to, but do remember to consider that outsiders in limited liquidity exchange markets can often be found at bigger prices if you shop around on oddschecker.com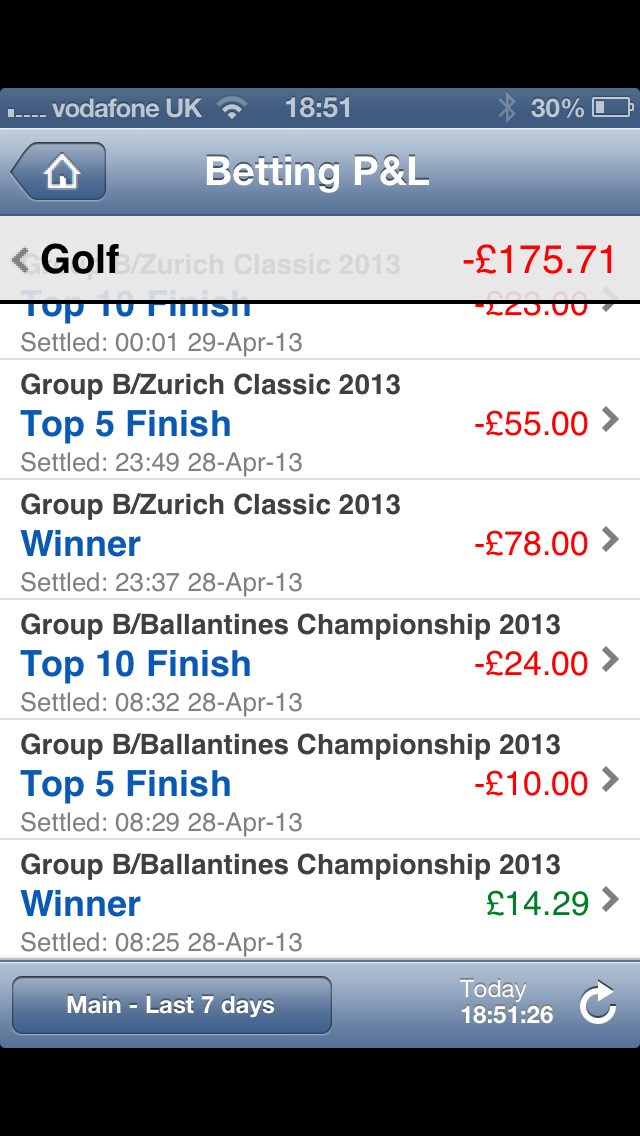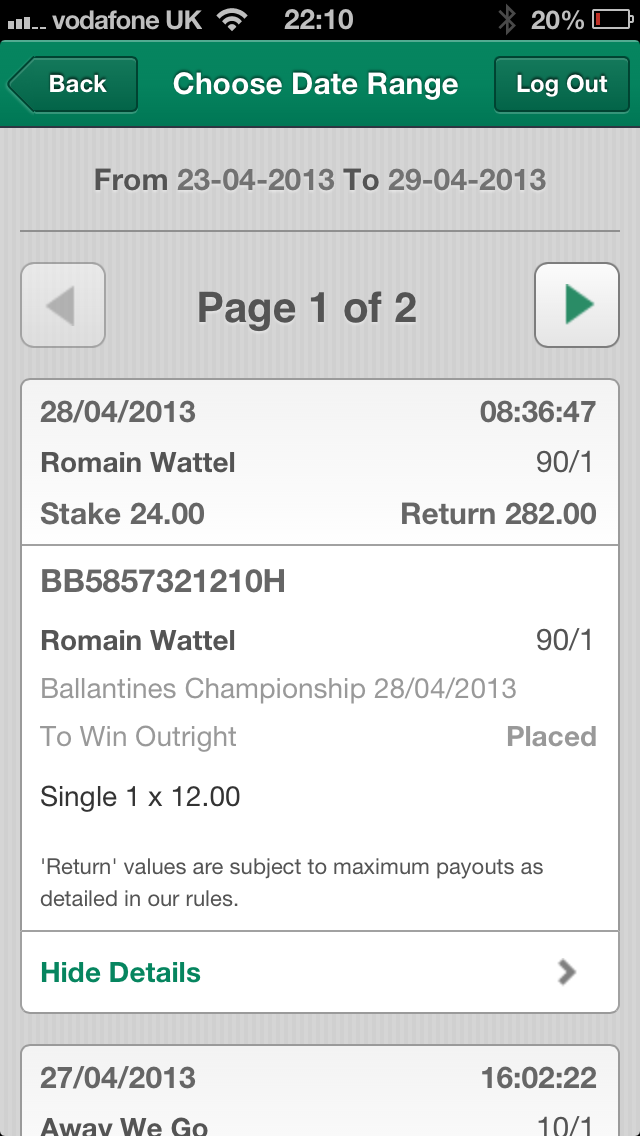 Twitter @planey2k
Dave has blogged for the past few years at Palphabet.blogspot.com on the many ups and downs associated with betting on a mulititude of sports