Golf Betting Blog
It was either due to the shock of post-Ibizan sobriety or perhaps more pertinently the penniless position I found myself in due to perverse proportions of partying (and parting – with my cash).
Either way, as reality dawned back in the UK on Tuesday last week I decided, for the first time in months, to ignore the tipsters' myriad selections for the WGC Bridgestone Invitational and instead just pick two of my own.
That's a lie, I took Steve Palmer's advice and backed Masters Champ Adam Scott, but had all of my remaining kitty on one man, Tiger Woods, to claim his eighth Firestone title.  
He was 5.5 on Betfair (9/2) and, having written before about the importance of course knowledge and success, that looked a great price to me.
He duly hosed up on Thursday and Friday, meaning I could lay off the stake and enjoy the weekend.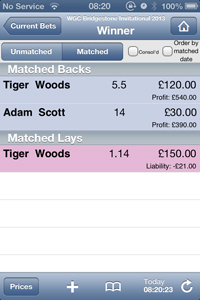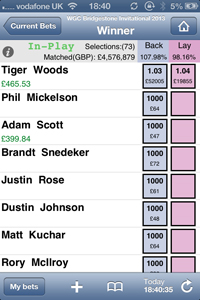 A bit like Tiger though, I did miss that competitive spirit over the final two days, so I backed Chris Wood in the "without" market. It felt good to have that challenge blaze for a while, and then ultimately fail and lose a bit of money.
Tiger's WGC record of 18 wins from 42 starts is remarkable but his 4/20 conversion rate (20%) in following up a win the week before a major championship with a win IN a major championship makes this weekend's challenge at Oak Hill look ominous.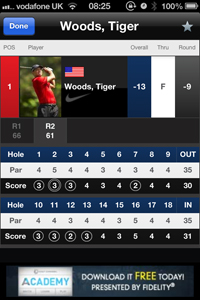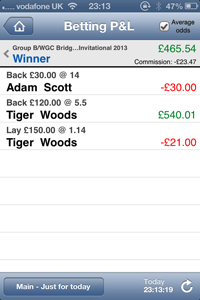 His price is the same this week as it was last (in places – Coral and Hills go 9/2 but the rest are 4/1 or 7/2) and you could argue the field is as strong (49 out of the world's top 50 were in action last week).
So it's just down to whether or not the world's greatest sportsman can tame the course. Having had my balance bolstered by his brilliance last week, I'm climbing aboard again now… from Hong Kong airport, by the way, en route to Sydney!
Stenson and Kaymer have been going about their business with Swedish flair and German finesse of late.
Like Ikea meets Oktoberfest, perhaps! I expect them to go well in the final major of the year.
And whilst defending USPGA champ Rory McIlroy hasn't played golf with as much confidence as his European compatriots, I can't ignore him at the monster price of 35 /1.
Jiminez, like a full-bodied Rioja just continues to give, and at 150/1 has the legs (albeit one of them recently broken) to give you a run for your money.
Another smooth finish from MAJ last week (4th), after a strong Open Championship, completes the red-wine-based analogies.
Off to catch another flight now. Will be sure to talk Ashes with the Aussies, rather than Green Jackets!
Twitter @planey2k
Dave has blogged for the past few years at Palphabet.blogspot.com on the many ups and downs associated with betting on a mulititude of sports.