Golf Betting Blog
Classical music aficionados, I'm almost certain, will inform you that the operatic librettos carefully composed by 19th century's Wilhelm Richard Wagner are best aurally recollected nowadays on a Sunday evening.
The more soothing melodies will aid a relaxed slumber in preparation for the week ahead.
Similarly, golf bettors who layed Greenbrier Classic final round leader and namesake of the German musician, would have slept well last week as Johnson Wagner followed up rounds of -8, E and -6 with a rain-affected diminuendo, closing +3 and allowing Sweden's Jonas Blixt to swoop in and win by two.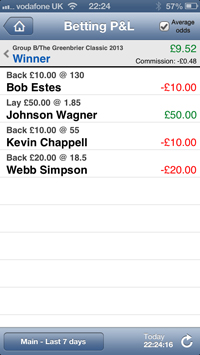 This left me with only minor losses on the PGA Tour event. Europe was a slightly more bewildering sheet of betting music.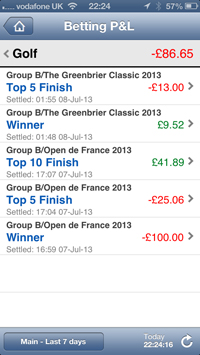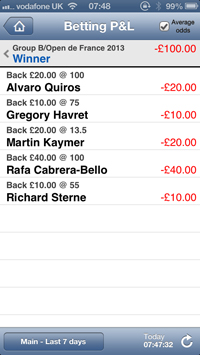 Having strongly backed Graeme McDowell for both the US Open and more recently, albeit less feverishly, for the Irish Open, it hurt to see him come over the line as a 25/1 Open de France winner ahead of Richard Sterne (backed £10 win at 54/1; £10 top 10 at 11/2).
I dropped G-Mac in favour of some Spanish conquistadors – Jiminez, Cabrera-Bello and Quiros, who came 58th, 29th and CUT respectively in France, but all of whom I like for this week's Scottish Open and next week's Muirfield major.
Do I stick or twist?
Despite what my weekly portfolios seem to suggest, you can't actually back everyone can you?
At some point you lose faith with a player to whom you've been financially faithful and you have to live with your decisions.
In some ways, betting on golf can be like writing music. You have to look for rhythm in golfers who compliment the course like a note or chord in a particular movement.
You don't want to overcomplicate things with too many demisemiquavers and leave yourself with a cacophony of noise, but instead delicately weave together the melodies best served to reward your senses and account balances.
And you have to know when to scratch a line through a tired segment and try something different.
Steve Stricker and Zach Johnson fit the bill in the John Deere USPGA tournament this week but are short prices and should be used in multiples.
Outright value lies with Ryan Moore (33/1 generally) and Kyle Stanley (64/1 on Betfair).

Twitter @planey2k
Dave has blogged for the past few years at Palphabet.blogspot.com on the many ups and downs associated with betting on a mulititude of sports.