7.30 – Another glorious day in East Lothian as the second round of the Open gets underway. There is limited wind, the sun is baking the fairways and Muirfield looks like a proper links course should at this time of year. Here's the view from our balcony.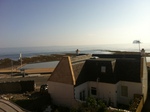 8.30 – Mike Harris and Paul O'Hagan hard at work before heading to the course. Some interesting predictions coming in from the GM team this morning. Asked to 'pick one player to propel themselves up the leaderboard today', the answers were as follows:
Mike Harris – Jimmy Mullen (Royal North Devon member!)
Paul O'Hagan – Ernie Els
Fergus Bisset – Graeme McDowell
Nick Bonfield – Justin Rose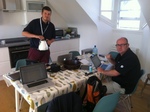 If you want to give your view, head to the GM twitter page. Comment with the name of the golfer you think will shoot the lowest round today using #OpenLowRound and you could win one of these prizes: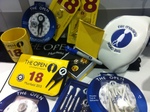 10 am – After several grumbles about yesterday's pin positions, the BBC's Ken Brown sums it up perfectly: 'some of the pins were very difficult, but it's the Open Championship and the same for everybody.'
11.30 am – Fair logistical task keeping journalists up to date with all the latest scores out on the course… have you ever seen a more comprehensive leaderboard?!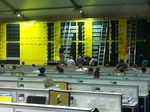 12.00 pm – 12.00 pm – Tiger Woods looking very ominous out on the golf course. He's currently three-under-par and two back of overnight leader Zach Johnson and Lee Westwood, who has turned in five under par 31.
12.30 pm – There are some good scores out on the course and conditions are ideal. Bernard Gallacher tells the BBC: "I think they've been heavily watered overnight, if you ask me."
1.30 pm – I see Matthew Fitzpatrick being congratulated by his family for a fine performance on his Open debut. Even if his +7 doesn't make it cut, it's still been a remarkable performance from the British Boys champion.
2.00 – Phil Mickelson strides purposefully onto the range and labelles Muirfield 'a totally different course', adding: 'that's what I've come to love about links golf.'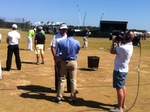 4.00 pm – Promising 21-year-old amateur Ben Stow birdies the last to finish his first Open Championship on 11 over. "It's been an amazing experience," he says. I spend some time with his parents on the way round and they say Ben intends to complete his degree at the University of Kentucky before turning professional.
6.00 – Rafa Cabrara-Bello returns a second-round 73 to head into the weekend comfortably inside the top 10. As it stands. there are six Europeans inside the top 10. There have only been three European winners of the Open Championship in the last 20 years.