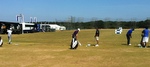 Open Championship 2013: Saturday timeline
8 am – The GM team wakes up to some overcast condition for the first time since we arrived on Sunday. This should make Muirfield more scoreable and help the greens retain their moisture throughout the day.
9.30 am – Tee time watch. Some intriguing Open pairings to look out for today:
10.55 am – Padraig Harrington and Sergio Garcia
2.20 pm – Charl Schwartzel and Adam Scott
3.10 pm – Tiger Woods and Lee Westwood
3.20 pm – Henrik Stenson and Miguel Angel Jimenez
10am – Jezz Ellwood's video review
Click here to hear Jezz Ellwood's thoughts on yesterday's play and what might transpire during the third round.
11 am – Who is going to win the Open? GM picks…
Mike Harris – Miguel Angel Jimenez
Jezz Ellwood – Lee Westwood
Paul O'Hagan – Tiger Woods
Alex Narey – Tiger Woods
Nick Bonfield – Tiger Woods
We've also had a look at some of the latest odds. Phil Mickelson is 40/1 to be leading at the end of the day. Don't discount Ian Poulter at 33/1 in the outright market, either.
12.20 pm – Three hours until Miguel Angel Jimenez tees off. He thoroughly entertained the media after the conclusion of his second round.
Asked how he was leading the Open at 49 years of age, he replied: "Why? I have not the right to do it? Only the young people can do it?!"
1.30 pm – 19-year-old Devon amateur finishes his third round – a four-over-par 75. Last night, on the 18th green, this young man hit the shot of his life. Needing a par to make the cut, he almost holed his approach before tapping in a three-footer for birdie. A remarkable achievement.
2 pm -Just seen Adam Scott, Webb Simpson and Angel Cabrera warming up on the range. It wouldn't be at all surprising if the eventual winner came from that trio.
3 pm – Sergio Garcia completes a third-round 68 for a three-over-par 54 hole total. He's currently in a tie for 20th – let's see where he is at the end of the day. One thing's for sure, he's not out of it.
4 pm – The 13th green is unquestionably one of the best sports at Muirfield, but my personal favourite is the 11th green, which offers lovely views out to sea.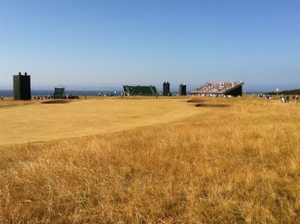 4.30 pm – Lee Westwood's eagle three at five achieves the loudest cheer of the day.
6 pm – Hunter Mahan, a man you perhaps wouldn't have expected to do well on a links track, cards joint best-of-day 68 to earn a place in the final group as one of only three players under par.
7 pm – What an enthralling couple of hours. Tiger played some exceptional golf but Westwood matched him stride for stride and edged ahead with a brilliant birdie at 17. Westwood, a man who's suffered well-documented putting woes in recent times, wielded the flat-stick superbly to take a one-shot lead into the final round.

7.30 pm – Westwood will play with Mahan in the final group tomorrow. Woods will bid for a 15th major title alongside Adam Scott and former caddy Steve Williams, adding yet another dimension to an already scintillating tournament.
8 pm – GM picks…
Mike Harris: Henrik Stenson
Alex Narey: Tiger Woods
Jezz Ellwood: Lee Westwood
Paul O'Hagan: Tiger Woods
Nick Bonfield: Tiger Woods
8.15 pm – A cautiously optimistic Lee Westwood takes questions from the media. He refuses to get ahead of himself but does declare he felt no nerves playing alongside Tiger in the third round.