Wednesday Open timeline
Below, we've documented some of the key moments from Wednesday at Muirfield as players gear up for the 142nd Open Championship.
9am – Adam Scott in the interview room
Reflecting on Lytham: "You have to be tough coming down the stretch and I wasn't. A four-shot lead isn't enough if you're not going to be tough. Sometimes maybe something bad has to happen for you to realise that."
10am – GM speaks to Sandy Lyle and the two-time major champion admits his main priority this week is to beat fellow Ryder Cup team mate Nick Faldo.
11.30 am – R&A Chief Executive Peter Dawson spends the majority of his Open Championship press conference fending off questions about same-sex golf clubs. He also declares the course set-up to be the best he's ever seen in his 13-year involvement with the Open championship.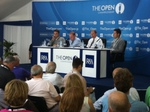 12pm – Dustin Johnson warms up on the range and hits a series of three-woods that bounce once and hit the net at the end of the range – some 300 yards away.
12.30 pm – Rory McIlroy describes his game as 'promising' and says: 'golf is like life. You're going to go through highs and lows, but sooner of later I'll turn it around.'
1pm – I spend some time watching Luke Donald hit balls on the range. Thomas Levet, who is watching with me, says he thinks Donald has a great chance this week.
2.30 pm – Tim Clark, the man who announced he would seek legal councel when the anchored putter ban was confirmed, is seen practicing with a short putter on the practice putting green.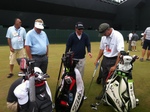 3 pm – Tom Watson is handed the 'spirit of golf' award by leading golf charity The Golf Foundation. He declares it a 'wonderful honour' and goes on to say he thinks Justin Rose has a great chance this week.