Open Championship timeline
Over the course of the Open week, we'll be bringing you the latest updates from Muirfield, host of the 142nd Open Championship.
Monday 15th:
9.30am – Ernie Els' reign as Open champion comes to an end as he gives the Claret Jug back to R&A Chief Executive Peter Dawson.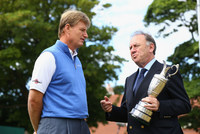 6pm – adidas unveils new gore-tex waterproof outwear in a 'weather the storm' event at North Berwick Golf Club with the help of staff players Dustin Johnson and Martin Laird.
6.30pm – Callaway Golf stages an event at Renaissance Golf Club, with 10 staffers helping to showcase the new Mack Daddy 2 wedges and Optiforce driver. Nicolas Colsaerts, the Belgian Bomber, notches a club head speed of 122.6 mph to win the speedtrap challenge from Alvaro Quiros.
Tuesday 16th:
10am: Tiger Woods in the interview room.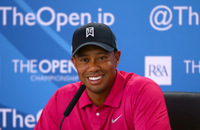 Woods was in good spirits during his press conference as he looks to win his fourth Open Championship and first major for more than five years.
The world number one spoke of his love for links golf and said he felt 'very good' about his game heading into the tournament.
Below is a selection of the best and most revealing quotes from Woods' press conference.
"What a fantastic championship on one of the best venues. I'm really looking forward to Thursday. It's playing really fast out there. The golf course is set up perfectly and I'm really looking forward to it."
"On downwind holes, 3-wood is running out close to 90 yards. On 17 [par 5] yesterday, I hit 3-iron 3-iron over the green. It's really firm."
"I feel very good about my game. Even though I haven't won a major championship in five years I've been there in a bunch of them where I've had chances. I just need to keep putting myself there and eventually I'll get some."
11.30 am: Matt Kuchar and former Open champions David Duval come down the par-5 17th. Duval looks unhappy with himself while Kuch strolls along nonchalantly and knocks a beautiful long iron onto the green.
12 pm: Rory McIlroy on the putting green
Rory McIlroy looks in deep concentration on the putting green with caddie JP lining up his putts. I watch him hit 10 or so from eight feet and he holes a good 80%, despite looking slightly unhappy with himself.
1.30 pm: Brandt Snedeker in the interview room
"The Open is always a special week, especially here at Muirfield. The golf course is fantastic. It's unlike any Open I've played in before, where the ball is bouncing everywhere.
"It's really firm and fast and the course is in fantastic shape and greens are some of the best I've seen."
2.30 pm: Phil Mickelson in the interview room.
The Scottish Open champions was in upbeat mood as he talked up his chances of claiming a maiden Open Championship.
Below are some of Mickelson's most interesting comments.
"I've been playing well for a few months and I'm hopeful this will be a good week. I'm very comfortable with the way the holes move, it's very comfortable for me off the tee as well as around the greens. I like Muirfield a lot."
"I'm really optimistic about this week and going forward as I've started to putt as well as I ever have. I feel I've really keyed in on something and I think I've finally found the secret to my own putting."
"I feel like it's a very fair set-up. I feel like the fairways are a fair width and if you play reasonably well, you can keep the ball out of the rough."
 "I'm not going to carry driver this week. I feel like the 64-degree wedge on this firm ground can save me some yards."
"It's very difficult to win the week before a major and then follow it up with another victory. Then again, you're looking at the last person to have done that!"