Golf Monthly has teamed up with FootJoy, the #1 Shoe  in Golf, to offer you a unique opportunity to design a pair of FJ MyJoys golf shoes for Matteo Manassero to wear in competition at this year's BMW PGA Championship.
Regarded as one of the most exciting talents in the game today, the 19 year-old Italian is the youngest ever player to win three European Tour titles and will be one of the main contenders for the title at Wentworth.
Matteo, himself is a big fan of the MyJoys programme and often customises his own shoes, but for one week only he is seeking creative inspiration from Golf Monthly readers to come up with a unique pair of FJ's for him to stride the fairways of the West Course in.
Matteo will select his favourite design on the 19th April and the winning designer will also receive their own pair of MyJoys as well as a two weekend day tickets to watch the European Tour's flagship event.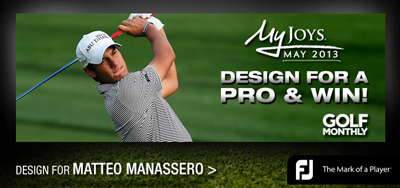 The MyJoys franchise has been one of golf's biggest success stories and a significant part of FootJoy's market leading range of golf shoes.
With some of the biggest and brightest names in golf interacting with the MyJoys programme, more and more amateur golfers have been following suit and creating their own unique designs.
The concept has proven to be one of the most talked-about products in the golf industry and FootJoy is continuing its support of the MyJoys franchise in order to inspire golfers to take to the fairways in style.